The inspiration for the holistic approach to health that Linked encompasses is born from Jack & Steph Geddes, husband and wife who started Linked 6 years ago. All training and nutrition that Linked has to offer has been trialled and tested by Jack & Steph themselves and form the basis of their own lifestyles. With Jack's passion in training and Steph's in nutrition, their goal is to inspire people to experience how combining their two expertise is the one and only path to the healthiest you. Along with themselves they have developed a highly valued team of experts to bring you nothing but the best when it comes to your health and fitness.
Jack Geddes
Exercise Scientist & Personal Trainer
Jack has studied Exercise and Sports Science with a major in Sports Coaching and has developed his skills as personal trainer for over 10 years now. Jack has an extensive experience training all age groups ranging from kids to seniors, and is a referred trainer by many local doctors, physio's and health practitioners. Jack has built a reputation and training style where participants are constantly challenged with achievable and functional exercises to get the very best out of everyone meaning you leave feeling exhausted but with a great sense of accomplishment.
Jacks philosophy is simple hard training and good nutrition with correct guidance and support will get you the results you want quicker and keep you there longer.
Jamie Bouziotis
Personal Trainer & Boxing Coach
Jamie is a boxer/kick boxer with over 10 years of experience training and fighting. In combination with his Bachelor of Exercise and Sport Science, Jamie works to blend his experience in combat sports with evidenced-based practice in strength and fitness training to push you to reach your goals.
With experience as a strength and conditioning coach with high school athletes, semi-professional soccer as well as amateur A-grade senior football, Jamie has all the tools to help you get to peak physical form.
Jamie's passion for human movement and the improvement of physical/mental well being by means of exercise is what pushes him to get the most from anyone he trains. He believes that participating in fitness training is a lifestyle choice rather than a chore and this drives pushes him to keep his sessions fresh and exciting for all of those that participate.
Lisa Rowse
Personal Trainer & Fitness Coach
Lisa has completed her Certificate 3 and 4 in Fitness and has over 7 years experience training people in both group and 1:1 environments. She has a fantastic approach to help you achieve your goals by challenging you to push your body and get out of your comfort zone whilst ensuring the exercises are completed correctly and are right for you.
Lisa has a background in endurance running having completed the incredible 100km Oxfam run but more recently is specialising in fitness for new mums after transitioning back into training herself with 3 young children.
Steph Geddes
Registered Nutritionist
Steph has a Bachelor Degree in Exercise and Sports Science with a major in Sports Nutrition and has completed post-graduate study in Human Nutrition. Steph's number one priority is that the food you eat must be wholesome, nourishing, balanced and enjoyable. She believe that every food group has a place in someone's diet; it comes down to tweaking how much of each group works for each individual.
Steph takes 1:1 appointments at Linked but she specialises in recipe development and consults to many brands, businesses and online programs with her nutrition advice. Steph contributes regularly to media such as Womens Health, Sportluxe, Body & Soul, Whimn and even the local leader paper. Her popular 21 Day Detox Program has over 100 incredible testimonials and you can check out her recipes and more of what Steph does as a Nutritionist when she's not at Linked on her website, Body Good Food.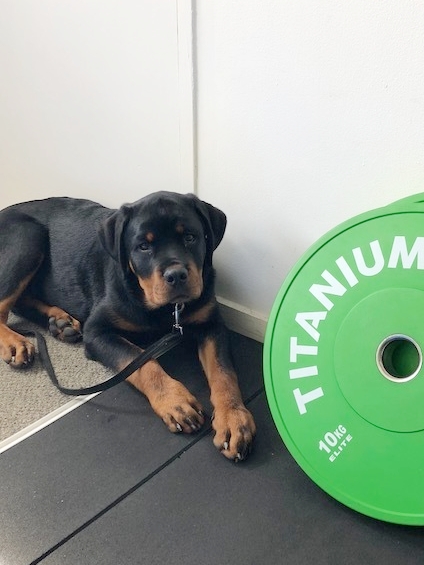 Arrow is Jack & Steph's fur baby also known as the Linked friendly giant! You might see him around the studio occasionally or chilling out in the office!
Arrow loves:
Lazing around in the Linked office

All humans, big and little

Balls and treats

and most of all.... cuddles!
© COPYRIGHT 2013 LINKED TRAINING AND NUTRITION, ALL RIGHTS RESERVED ABN: 50 851 274 647